Premium grade competitive price women period extra care sanitary pad
Premium grade competitive price women period extra care sanitary pad
| | |
| --- | --- |
| Packaging: | Premium grade competitive price women period extra care sanitary pad - LCL cargo accepted - Dispose sanitary napkin |
| Brand: | OEM / ODM |
| Place of Origin: | Guangdong, China (Mainland) |
Product Description
Premium grade competitive price women period extra care sanitary pad
1. Ultra thin 1mm, 245mm long.
2. Softer than cotton, silky touch.
3. More than 700 penetration holes, super quick absorbent.
4. More than 6000/cm3 dynamic negative ions PLUS far infrared ray generated by anion green chip technologically and effectively inhibit the survival and duplication of virus and bacteria as a "bacteria killer".
5. Absorb and lock the flow in ONE second.
6. 100ml of super absorbency guarantees protection for long day and heavy flow.
7. 1300 backsheet ventilation holes, moisture and odor controlled completely.
8. Perfect body fit and food grade adhesive keeps the pad stay on the panty firmly without any side leakage.
9. Individually wrapped.
Functions of Negative Ion/Anion Blue chip (dynamic anion included):
1. Promote the formulation of biological enzyme
2. Balance PH value
3. Promote metabolism
4. Improve immunity
5. Inhibit the survival and duplication of virus and bacterium
Brief of description
1. Super absorbent
2. High quality and 100% cotton
3. Leakproof
4. Breathability
Sanitary Napkin is leveled by its absorbency, softness and comfort normally. As a professional sanitary napkin manufacturer we believe our customers should deserve more value other than the pad itself.
Anion sanitary napkin is not only a high quality pad, but also providing more heath care for women during periods.(Free samples available,27 years of production experience to serve you)

Product
Specification
* Brand Name: Glory Girl , Oui Oui, private label/OEM acceptable
* Size:  Day time use 230-260mm, Overnight use 280mm-410mm, Panty liner 150mm
* Surface: Super soft and perforated non woven
* Color of pad: White
* Back sheet: Breathable
* Package: Zip lock bag, Deluxe aluminum bag, Paper box, Normal PE bag
* Packing: 10/20 pads X 48 bags per carton
* MOQ: 300,000 pads for sanitary napkin, 600,000 pads for panty liner
* Individual wrap: PE/ non woven 
Product
Features
(1) Ultra thin (1-2mm thick)
(2) Super soft and perforated non woven top sheet, the softest touch to women skin, and the quickest penetration from top to bottom
(3) More than 6000/cm3 dynamic negative ions PLUS far infrared ray generated by Anion green chip technologically and effectively inhibit the survival and duplication of virus and bacteria as  "bacteria killer".
(4) Japanese SAP makes the pad super absorbent and locks menstruation flow in ONE second, 2-3 times more absorption than normal pads' in the market.
(5) Great breathability of back sheet effectively helps prevent moisture and odor.
(6) Perfect body fit design and strong adhesive keep the pad firmly stay on the panty all the time.
Product
Pictures
Many options available for Packaing ( Made in China brands  super thick women sanitaty pads)

(1) Zip Lock Bag
It is a bag with a zip lock. The bag can be re-zipped after take one pad out of the bag. Zip lock bag is a good option if girls want to keep pads away from moisture and be hygienic in all times.

(2) Aluminum Foil Bag
Aluminium bag is a food grade bag. It comes with an easy quick seal sticker. Girls can put the sticker back after take one pad out. Fantastic looking of the package displayed on the shelf may easily cause eye catching. It is a good option to keep pads away from moisture and be hygienic in all times.

(3) Paper box
  Paper box is a packaging 100% recycle. Environmental sustainability has become more important in now days. It is a good option for buyers who always focus on protecting our environment. Paper box can be with different shape and structure catering to different requirements. It is also a good option for buyers who want to change designs often as paper box does not require any plate or mould charge.


(4) Normal PE bag
It is a cost-effective plastic bag. It is common globally

(5) Shipping: by sea/train

Anion Sanitary Napkins have been widely shipped to Malaysia, Singapore, Philippines, Indonesia, Russia, Kazakstan, Thailand,Hungary,USA.Canada,India,Australia.etc.
(6)Logistic information for shipping
Premium grade competitive price women period extra care sanitary pad
We can supply negative ion sanitary napkin either under customer's brand or our own brand.
(1) Free samples of sanitary napkin with negative ion   
        (2) OEM(Original Equipment Manufacture) and ODM(Original Design Manufacture) orders are welcomed here! 
(3)Every package of sanitary napkin and panty liner with negative ion can put together with   a Female Vagina Inflammation Self-Test Card 
This could help women test their body immediately and conveniently. 
Company Briefs

Our company is thoughtful, caring people and the focus of helping people reflects this. In the past years we've paid lots of efforts in charity and social welfare.
We opened a female care hot line for answering questions about female health.

We frequently donate thousands of pads to charity or other organization and rural areas.

We support children to go to school.

We will keep going our charity to help anyone who needs.
(1)What we do?
We are specialized in manufacturing high level, fashionable, safe and healthy feminine hygiene products for women. Our products include Sanitary Napkins, Panty Liners, Sweat Pads and tampons in all size, type and grades. They are carried out with the standards of FDA, GOTS, CE, I S O 9 0 0 1, SGS ,ITS ,MSDS etc.
(2)Our factory
Our factory is garden-like modern plant which covers around 60,000 square meters, equipped by auto high speed and advanced production lines, all the devices equipped in high level ensure every pad we produce completely safe, hygienic and high quality. Quality control runs strictly throughout all the links from raw material to finished products
(3) Our Certificate 
Our Certifications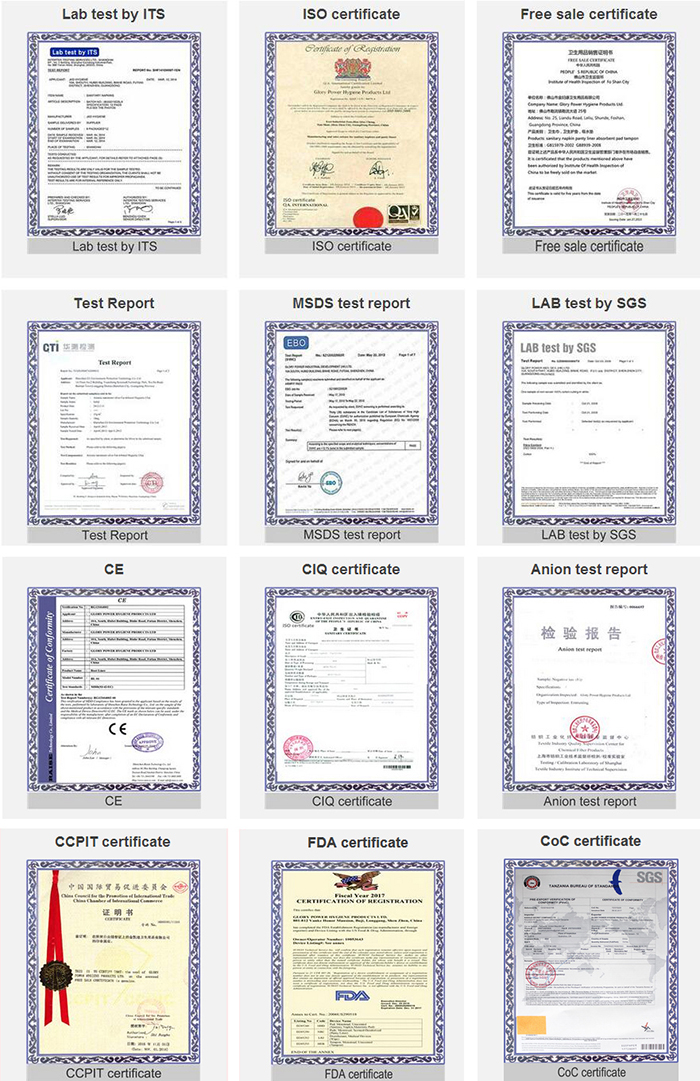 (4)Our capacity
Our production capacity is about 110 million Sanitary Pads per month, and 60 million panty liners per month. The products cover around 120 global retail brands. More vividly speaking, if made 170 million pads (one month output) connected total length is about 40,000 kilo meters which is a circle of our earth. 
(5)Liability
We regard reputation as our precious life. Liability is a guarantee for us to go farther on. From raw materials to production, after production, delivery, after sales service, all products carried out under strict standards and regulations throughout all links. We guarantee every packet of pads in fine quality. We are committed to be a 100% liable enterprise.
(1) Do you accept small order?
Yes,we do. We are having ready stock available now.
(2) Visit of factory?
Yes, warmly welcome a visit of our factory anytime.
(3) free sample
Yes, Free samples available.
(4)other hot product
Now. our the most popular product have the Far-infrared sanitary pad,  herbal medicine sanitary napkin, Fruit series santary towel and so on. if you want to know more popular product, please leave us a message.
Product Categories : ODM/OEM Pads/Liners